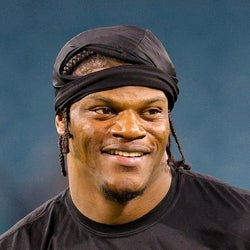 Rest-of-Season Projections
2022 Fantasy Outlook
Jackson had a lot going against him last year. He lost running backs J.K. Dobbins and Gus Edwards to season-ending injuries before Week 1, followed by LT Ronnie Stanley in the opener, and then later in the year Jackson himself missed five games (and most of a sixth) to illness and injury. It's too bad, because his per-game numbers were strong. In his 11 full games, Jackson averaged a career-high 260.5 passing yards, while 69.3 rushing yards per game topped the previous year's pace. Prorated to 17 games, those numbers would vault him into the top 5 of fantasy QBs, even with his downturn in total touchdowns (18). His completion percentage (64.4) matched the previous year, and his 7.5 YPA (8th) was slightly improved on a 9.3-yard average target depth (3rd). The biggest issue was a career-high 13 interceptions with his 3.4 INT rate second highest in the league. In any event, a year of good health is most important — for Jackson, the running backs and second-year WR Rashod Bateman, who was limited to 12 games in an otherwise promising rookie season. Bateman is the new No. 1 after Marquise Brown was traded on draft day, leaving the Ravens with only TE Mark Andrews as a sure thing among their pass catchers. The offensive line got help with first-round pick Tyler Linderbaum, one of the best center prospects in years, and the Ravens seem to be gearing up for a return to their run-first ways after attempting 611 passes (ninth most) last season. As the league's best running quarterback, it won't take much for Jackson to bounce back into the top 5 at the position again, even if Baltimore's passing game is a work in progress.
Read Past Outlooks
RANKS
#

Overall
$Signed a four-year, $9.47 million contract with the Ravens in June of 2018. Ravens exercised $23.02 million team option for 2022 in April of 2021.

Set to play through hip issue
Jackson (hip) doesn't carry a designation into Sunday's game in Jacksonville after logging
full participation
in practices Thursday and Friday.
ANALYSIS
According to
Jamison Hensley of ESPN.com
, the hip injury Jackson has been dealing with this week isn't related to the one that previously limited the quarterback's practice activity in Week 7. Even though he approached the Ravens' game that week without a designation, Jackson threw for a season-low 120 yards in a 23-20 win over the Browns. As for his latest hip issue, Jackson said it wasn't something that bothered him during last week's 13-3 win over the Panthers, and the injury is "getting better" day by day. The Ravens are hopeful that Jackson will be able to perform better than he did the last time he managed a hip injury Week 7, though he'll have to make do in Jacksonville without starting left tackle
Ronnie Stanley
(ankle), who has been ruled out for Sunday's game.
Patrick Mekari
will be protecting Jackson's blind side in Stanley's stead.
Read More News
NFL Stats
Fantasy/Red Zone Stats
See red zone opportunities inside the 20, 10 and 5-yard lines along with the percentage of time they converted the opportunity into a touchdown.
Loading Fantasy/Red Zone Stats...
Advanced NFL Stats
How do Lamar Jackson's 2022 advanced stats compare to other quarterbacks?
This section compares his advanced stats with players at the same position. The bar represents the player's percentile rank.
The longer the bar, the better it is for the player.
Bad Pass %

The percentage of passes that were considered to be poorly thrown.

Avg Target Depth

The average number of yards thrown per pass by the quarterback – including incomplete passes.

Sack Rate

The percentage of dropbacks where the quartback was sacked. The longer the bar below, the more often they are sacked relative to other QBs.

Avg Receiver YAC

The average number of yards after the catch that receivers gained on passes thrown by this quarterback.

Receiver Drop %

The percentage of passes dropped by receivers on passes thrown by this quarterback. The longer the bar, the more sure-handed his receivers have been.
Loading Advanced NFL Stats...
2022 NFL Game Log
Calculate Stats Over Time
Just click on any two dates.
Scoring
Standard
PPR
Half PPR
FanDuel
DraftKings
Yahoo DFS
2021 NFL Game Log
Calculate Stats Over Time
Just click on any two dates.
Scoring
Standard
PPR
Half PPR
FanDuel
DraftKings
Yahoo DFS
2020 NFL Game Log
Calculate Stats Over Time
Just click on any two dates.
Scoring
Standard
PPR
Half PPR
FanDuel
DraftKings
Yahoo DFS
2019 NFL Game Log
Calculate Stats Over Time
Just click on any two dates.
Scoring
Standard
PPR
Half PPR
FanDuel
DraftKings
Yahoo DFS
2018 NFL Game Log
Calculate Stats Over Time
Just click on any two dates.
Scoring
Standard
PPR
Half PPR
FanDuel
DraftKings
Yahoo DFS
Snap Distribution / Depth Chart
This Week's Opposing Pass Defense
How does the Jaguars pass defense compare to other NFL teams this season?
The bars represents the team's percentile rank (based on QB Rating Against). The longer the bar, the better their pass defense is.
The team and position group ratings only include players that are currently on the roster and not on injured reserve. The list of players in the table only includes defenders with at least 3 attempts against them.

@ Jaguars
Sunday, Nov 27th at 1:00PM
Overall QB Rating Against
67.1
Loading Opponent Pass Defense Stats...
2022 Lamar Jackson Split Stats
Loading NFL Split Stats...
How do Lamar Jackson's measurables compare to other quarterbacks?
This section compares his draft workout metrics with players at the same position. The bar represents the player's percentile rank. For example, if the bar is halfway across, then the player falls into the 50th percentile for that metric and it would be considered average.
Recent RotoWire Articles Featuring Lamar Jackson
Past Fantasy Outlooks
No one expected Jackson to replicate his 2019 MVP campaign, but the slip from QB1 in fantasy scoring to QB10 didn't make his fantasy managers happy. However, Jackson mostly held the big gains he made in efficiency stats like completion percentage and bad-pass percentage. He was pretty much the same quarterback, but he lost a couple passing attempts per game, his receivers dropped more throws (3.5 percent drop rate in 2019, 7th lowest; 5.3 percent last season, 6th highest) and, most notably (and predictably), his red-zone TD pass percentage fell from a league-high 40 percent to 32.7, costing him five TDs. Jackson was arguably better throwing downfield last season, posting a 48.9 percent on-target rate (41.8 percent in 2019) on attempts of 20-plus yards and increasing his completion rate slightly to 37.8 percent. Jackson also rushed for 201 fewer yards, but his 1,005 was still the third most by a QB in NFL history, and he matched his rushing TDs from the year before with seven. So perhaps the proper way to look at it is despite regressing in several areas, he was still a top-10 QB. The Ravens added WR Sammy Watkins, who brings some size and speed opposite Marquise Brown, and first-round pick Rashod Bateman is a skilled route-runner who could have a role once he returns from August groin surgery. A healthier offensive line is key -- left tackle Ronnie Stanley missed nine games. But the notion that defenses have figured out Jackson seems premature, and his ceiling is so high it's entirely worth betting on him to bounce back.
The unanimous MVP last year, Jackson had arguably the most dominant season by a QB in NFL history. The rushing production is obvious — QB records for rushing yards (1,206) and rushes of 10-plus yards (47). But Jackson also proved his critics wrong, as his passing was nearly as historic. He threw a league-high 36 TD passes on 401 attempts for an 8.98 TD pass percentage, the highest since 1977, save for Peyton Manning's 2004 season (9.86). What's more, with only six interceptions (1.49 INT percentage), Jackson became one of three QBs in NFL history with a TD pass rate higher than 8.55 and an INT rate lower than 1.50. The others? Tom Brady (2007) and Aaron Rodgers (2011). Jackson's improvement in accuracy saw his completion percentage increase by nearly 10 points from his rookie year, vaulting from bottom 5 to top 10. And his bad-pass percentage went from 24.7, third highest in the NFL, to 19.2 percent, sandwiched between Russell Wilson (19.0) and Rodgers (19.3). Jackson was untouchable in the red zone, throwing 24 TD passes without an INT and a 40.0 TD pass percentage, third highest since 1991. That's bound to regress closer to the league average of 23.2 percent, but perhaps Jackson's overall regression in efficiency will be offset somewhat by increased attempts (401 last season, 26th). And Jackson could lose about 20 rushing yards per game and still finish the season with the third most rushing yards by a QB in league history. The receiving corps looks solid after a promising rookie campaign by Marquise Brown and a breakout season by TE Mark Andrews. RG Marshal Yanda retired, but the line still has standout tackles. Even if regression comes calling, Jackson can afford to take a hit and remain elite.
Jackson ended the Joe Flacco era in Baltimore in Week 11 last year, starting for the injured veteran and never letting him back on the field. As expected, Jackson was dynamite as a runner, topping 65 yards on the ground in six of seven starts. Also as expected, Jackson struggled in the passing game, with his 58.2 completion percentage ranking 35th among 38 quarterbacks with at least 150 attempts. What's more, he rarely challenged defenses deep - just 13 passes longer than 20 yards, including only five completions. His 24.7 bad pass percentage was third highest in the NFL, and he reached 200 passing yards just once. Still, a run-heavy attack - a leage-high 63.7 rushing percentage Weeks 11-17 ­- helped Baltimore win six of its last seven games to reach the playoffs. An aggressive running game will be the basis of the offense again this season, perhaps even more so with former running game coordinator Greg Roman promoted to offensive coordinator. That will help prop up Jackson's fantasy stats, but a heavy workload on the ground also exposes him to injury, and he fumbled 12 times last year (losing four). Even modest improvements in passing efficiency will go a long way for the fantasy prospects of Jackson, the first QB since Michael Vick capable of a 1,000-yard rushing season. Jackson's limited passing success last year came on throws to tight end Mark Andrews, who is now joined by rookie wideouts Marquise Brown (first round) and Miles Boykin (third round), along with veteran tailback Mark Ingram. There are more growing pains to come for the Baltimore passing game, but Jackson at least will have better athletes around him this year in his first shot as a Week 1 starter.
The Ravens traded up to draft Jackson, the 2016 Heisman winner, with the last pick of the first round. The plan is to develop him behind Joe Flacco this year, but the 33-year-old is coming off a horribly inefficient season and if he doesn't rebound quickly the team could turn to its new QB. At 6-2, 216, Jackson's size and speed allow him to create explosive plays with his arm and legs, but his accuracy needs work, as does his ability to throw on the run. He completed less than 60 percent of his passes each season at Louisville, but did improve year-over-year from 54.7 percent to 56.2 percent to 59.1 percent, without getting much help from his supporting cast. Jackson was a one-man show for the Cardinals, piling up 4,132 rushing yards, 50 rushing TDs and 69 passing TDs in 38 games, with 8.3 YPA and 6.3 YPC. Regardless of how things shake out this year, the Ravens likely will grab the salary cap savings next offseason and replace Flacco with the dynamic Jackson.
More Fantasy News