This article is part of our Team Previews series.
New York Giants

The keys to the Giants' season are better offensive line play and improvement, particularly in pocket awareness, by quarterback Daniel Jones. The rest of the roster – from the defensive front, to the secondary, to the skill positions on offense – is solid. For Jones, the year is make or break.
Offseason Moves
Key Acquisitions
Big, rangy downfield playmaker.
Elusive and fast, but in a crowded WR corps.
Has potential to be Saquon Barkley's top backup.
Explosive edge rusher who may start out of the gate.
Should start opposite James Bradberry.
Key Losses
The run stuffer signed a two-year deal in Minnesota.
Aging veteran replaced by Toney.
Went to Baltimore on a three-year contract.
A Look Under the Hood
Head Coach: Joe Judge (Year 2)
Offensive Coordinator: Jason Garrett (Year 2) - Air Coryell scheme
Defensive Coordinator: Patrick Graham (Year 2) - 3-4 scheme
2021 Vegas Projected Wins: 7 (T-25th)
2020 Record: 6-10
2020 Points Scored: 280 (31st)
2020 Points Allowed: 357 (9th)
2020 Point Differential: -77 (24th)
2020 Run-Play Rate: 41.3 percent (30th)
2020 Offensive Snaps: 966 (2nd)
2020 PFF O-Line Ranking: No. 31
Projected 2021 Depth Chart
QB: Daniel Jones / Mike Glennon
RB: Saquon Barkley / Devontae Booker / Corey Clement / Alfred Morris / Gary Brightwell
FB: Elijhaa Penny
WR1: Kenny Golladay / C.J. Board
WR2: Sterling Shepard / Kadarius Toney / John Ross
WR3: Darius Slayton / Austin Mack
TE: Evan Engram / Kyle Rudolph / Kaden Smith
O-Line: LT Nate Solder / LG Shane Lemieux / C Nick Gates / RG Zach Fulton / RT Matt Peart (RotoWire Rank: No. 30)
Kicker: Graham Gano
Top Storylines
All In on Danny Dimes
Despite Daniel Jones' massive turnover rate – 22 picks and 29 fumbles (17 lost) in 27 career games – the Giants are all in on the third-year quarterback. At least for 2021. Not only did they sign a nonthreatening backup in Mike Glennon, they passed on Justin Fields, who fell to them at No. 11, instead trading down to No. 20 where they took Kadarius Toney, yet another weapon for their young QB. Toney joins a stacked receiving corps that includes offseason acquisition Kenny Golladay, holdovers Sterling Shepard and Darius Slayton, talented, but unfocused, tight end Evan Engram and pass-catching running back Saquon Barkley.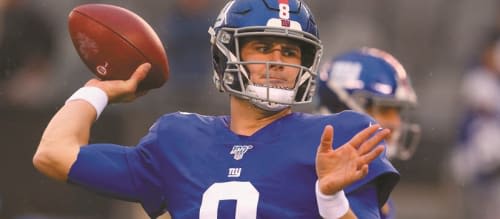 Jones has more than he could ask for, skill-position-wise, but the offensive line remains a work in progress. The return of left tackle Nate Solder should help, but they need to see development from last year's fourth overall pick, Andrew Thomas. In short, the Giants are counting on Jones to take a major leap, putting the pieces in place for him to earn his second contract and become the team's long-term answer at quarterback. If he flops, they almost certainly will be looking for a new signal-caller in 2022. Jones has the arm and athleticism to succeed, but his pocket awareness – only Carson Wentz had a higher sack percentage last season – needs significant improvement.
Offensive Line
If you were a skill-position player on the Giants the last two years, you might take offense at the lack of blocking on your behalf. While Daniel Jones holds the ball too long, the fact he frequently was under duress made for less-than-ideal conditions. And while Saquon Barkley's per-carry averages during his first two seasons were high, he made up for a lot of backfield stuffs with long runs.
The Giants lost right guard Kevin Zeitler via free agency to the Ravens but signed Zach Fulton from the Texans to replace him. They also get Nate Solder back from the COVID-19 opt-out list, though the bigger key is getting 2020 first-round pick Andrew Thomas to play – if not up to his pedigree – at least like an above-average starter. Thomas had surgery on his left ankle in January, indicating he might have been playing through an injury for much of the year, too. But it wasn't only Thomas, who allowed 10 sacks as a rookie.
Left guard Will Hernandez, their 2018 second-rounder, also was shaky, as was reserve guard Shane Lemieux. On the positive side, it's still a young group, last year's third-round tackle Matt Peart had a solid year, and Solder and Fulton should give the unit a boost. Don't expect miracles, but if the Giants' offensive line – ranked 31st by Pro Football Focus in 2020 – can claw its way back to league average, it's a win.
The Target Distribution
The Giants are loaded with playmakers, but there are only so many targets to go around. Kenny Golladay should be the clear top dog, but he runs mostly intermediate and deep routes, and isn't likely to get short dump-offs when Daniel Jones is hurried. As such, Golladay's target ceiling is more modest than most other team's No. 1 receivers.
Darius Slayton has 4.39 speed and served as the team's field stretcher the last two seasons, but he'll lose target share to Golladay. Sterling Shepard is a short and intermediate route runner, but his role overlaps with rookie Kadarius Toney's. Toney is likely to run short routes and do most of his damage after the catch, similar to the player he's replacing (Golden Tate).
Moreover, Saquon Barkley is good for 90-odd targets in a full season, and Evan Engram, despite his poor play, has 4.4 speed and also sees his share of targets in the intermediate areas. Injuries might resolve some of the logjam.
Engram and Shepard, in particular, have missed significant time in recent years, and Barkley and Golladay also are coming off lost seasons. But if everyone's healthy, Golladay might be the only player to finish with more than 100 targets, with Shepard somewhere around that mark. It bodes well for Jones, of course, but this is one of the league's wider trees.
Barometer
⬆️ Rising: QB Daniel Jones
Jones had a rough year in 2020, but he was playing through a bum hamstring and behind a bad offensive line for much of it. He's got all the physical tools to produce and plenty of receiving weapons around him.
⬇️ Falling: WR Darius Slayton
Slayton has been great for a 2019 fifth-round pick, but Kenny Golladay likely will take away a lot of his downfield targets. Plus, players like Sterling Shepard and Kadarius Toney will see the shorter passes.
😴 Sleeper: WR Kadarius Toney
The Giants' first-round pick this year, Toney is an explosive playmaker with 4.37 speed and a great runner after the catch. He'll probably see some handoffs, too. If Shepard gets hurt again, Toney's role could be significant.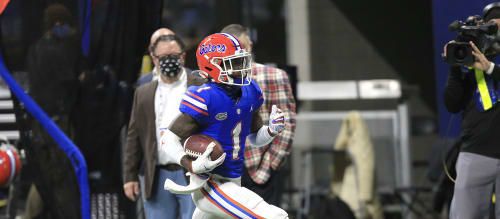 🌟 Pivotal Player: Saquon Barkley
Barring a setback in his ACL recovery, Barkley should be one of the first players off the board in fantasy drafts, given his size (5-11, 233), speed, open-field vision and pass-catching ability. While playing behind below-average offensive lines from 2018-2019, he averaged 5.0 and 4.6 YPC, respectively, and caught 143 passes in 29 games.
Medical Tent
Barkley tore his ACL, MCL and meniscus Week 2 last year, and while he had surgery in late October, his status for Week 1 is up in the air. On a positive note, he hasn't had a setback, and he's looked sharp in videos documenting his rehab progress and displayed progress via running, jumping and cutting at full speed in training camp, despite not being cleared to practice. The lack of a definitive timetable is off-putting, especially for a player with a first-round ADP, but realize there's no benefit for the Giants or Barkley of committing to a specific return date, and there's still a good chance he plays in the opener, albeit with a reduced workload.
Golladay missed 11 games last year with a hip injury, but the Giants apparently believe it's behind him as they inked the wideout to a four-year, $72 million deal with $40 million in guarantees in March. At 6-4, 215 and with 4.5 40 speed, he profiles as the team's primary field stretcher and top overall target. But Golladay will have to get past another health concern after appearing to hurt his hamstring in an early August practice.
QB Daniel Jones
Jones missed two games last year with ankle and hamstring injuries in December, his mobility was clearly hampered when he returned, and the issues probably had an effect on his ability to step into throws, too. But the Giants traded the 11th pick (eventually Justin Fields) to the Bears, signaling not only that they're confident in Jones' health, but also his abilities. That they signed a no-upside journeyman backup in Mike Glennon, rather than looking for someone with whom Jones might compete in camp, only solidifies that view.
Job Battle
With Kenny Golladay almost certainly ensconced as the team's No. 1 wide receiver, the battle to be the team's No. 2 is more open. Sterling Shepard is the most polished and experienced option, but he's often injured and doesn't offer much explosiveness or upside.
Darius Slayton showed promise during his first two seasons, but as a player who operates down the field, he's likely to be overshadowed by Golladay. The Giants traded down in the first round to select Kadarius Toney, a versatile and athletic weapon who can be used virtually anywhere on the field. Toney likely is the biggest threat to Shepard's target share, if he proves NFL-ready out of the gate.
Tight end Evan Engram also is a weapon – his 4.42 speed at 240 pounds makes him a big-play threat and matchup problem. Unfortunately, his erratic hands and uneven play put his role in flux. Of course, the offense will run through Saquon Barkley as soon as he proves to be fully healthy. Barkley is a threat to catch 70-plus passes in the short areas of the field, potentially pushing Toney and Shepard for targets.
Bottom line, Golladay is the only sure thing of the bunch, but Shepard's experience and polish make him the favorite to finish second on the team in targets. Slayton, Toney and Engram will all have roles, but there aren't enough targets to go around for everyone, especially once Barkley gets up to speed.